Register today for regular news and advice on industry trends and the latest coding and marking solutions.
Continuous inkjet inks
Our experienced team of CIJ ink chemists continuously monitor packaging trends and regulations to ensure our ink solutions are ready to address the emerging needs of our customers. Our development processes don't end in the ink laboratory. Our ink development activities include customer field trials. In fact, we encourage customers to participate in our testing phases to verify the required ink performance in the targeted application. Videojet's well established approach routinely results in overcoming the toughest printing and coding challenges. A portfolio of over 340 different inks makes Videojet the right partner to support you in finding the ideal ink for your application.
Adhesion and legibility
Manufacturers generally understand that the material being coded influences ink performance. And while paper products typically work well with most ink types, did you know that new high-performance plastics using specialized plasticizers are constantly being developed that can present complex challenges to ink code adhesion?
Moreover, factors like moisture, temperature, and humidity can all impact initial ink code adhesion and durability. Drying and curing times afforded by product processes and manufacturing environments (e.g. cooking/ retort, wash) must be accommodated as well.
Additionally, the time between printing the code and its first contact with a material handling component, like a belt or mechanical guide or another product, may influence the code's adhesion and legibility. These manufacturing process conditions can result in problems such as ink transfer or code smudging, and therefore should be considered when selecting the required ink.


Understanding the many varying factors, there are a few questions that you should ask in preparation for discussing ink selection with experts:
1. Exactly what material (e.g., HDPE, PP, PE, PEX) am I coding onto?
2. Are there any surface coatings or contaminants from the manufacturing process present on the product either before or after coding?
3. What product surface color variation exists, and what is your or your customer's requirement for visual or machine readable code contrast?
4. What is the printer operating environment and what temperature extremes will the product itself experience and the code need to endure?
5. When and what components come into contact with the ink code after printing that may impact ink dry time?
Knowing the answers to the above questions will help to quickly narrow down the ink selection to a handful of suitable options.
Packaging professionals will be well-served by partnering with a coding and marking supplier that can help guide their ink selection. Videojet stands ready to help you determine the ideal coding solution for your application.
---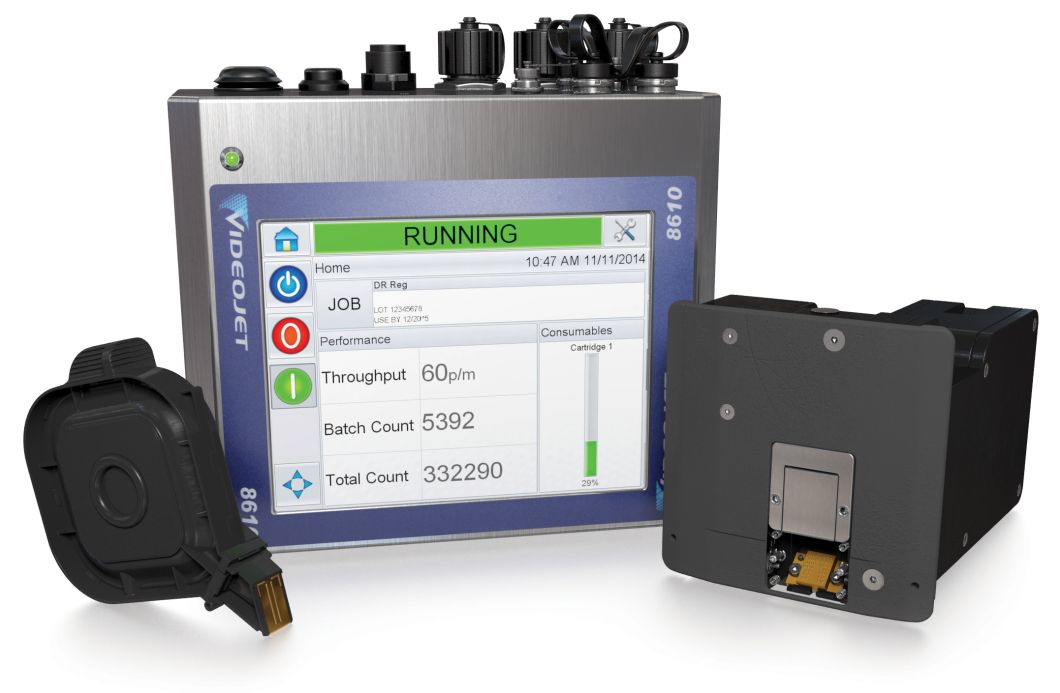 Thermal Inkjet inks
Videojet offers a range of Thermal inkjet inks to support primary product printing, case coding and commercial graphics applications. With options for both porous and non-porous applications, Videojet TIJ inks can offer high resolution prints via a reliable, low maintenance printer for a wide range of applications. Ink is delivered by cartridges designed to fit Videojet and Wolke printheads.
Thermal Transfer Ribbons
Our range of Thermal Transfer Overprinter (TTO) ribbons are designed specifically to meet the challenges of flexible packaging applications. Featuring backcoat technology, Videojet ribbons are optimized for use with Videojet printers, and when used together, the combination helps ensure fewer ribbon breaks, better print quality, optimized adhesion and the uptime performance your operation demands.
Available in selection of colors and specifications, Videojet TTO solutions provide high resolution, durable codes that enhance your brand.