Printing on Chocolate and Candy
We understand the unique challenges candy and confectionery manufacturers face on their production lines. From managing many different package types, to coding on small moving targets in an environment with airborne sugar particles – product integrity, quality and speed are paramount. To help meet these needs, we have developed coding solutions to get the right code, on the right product, time after time.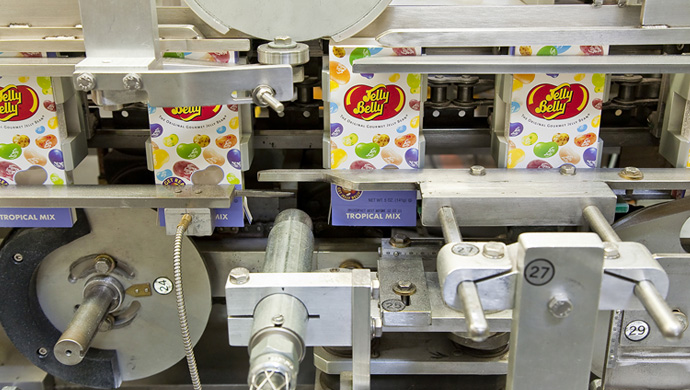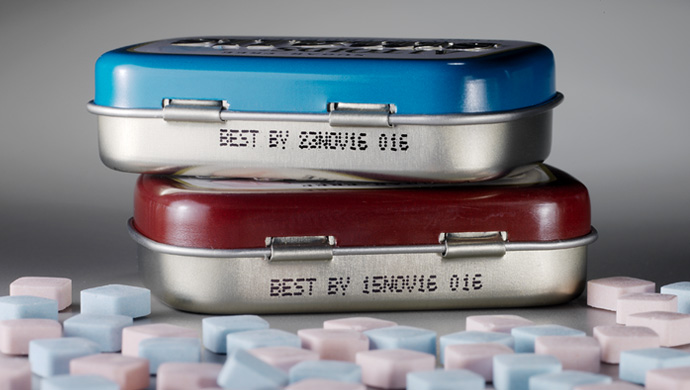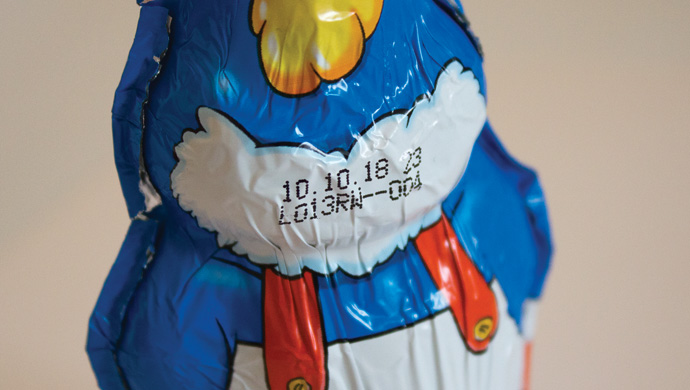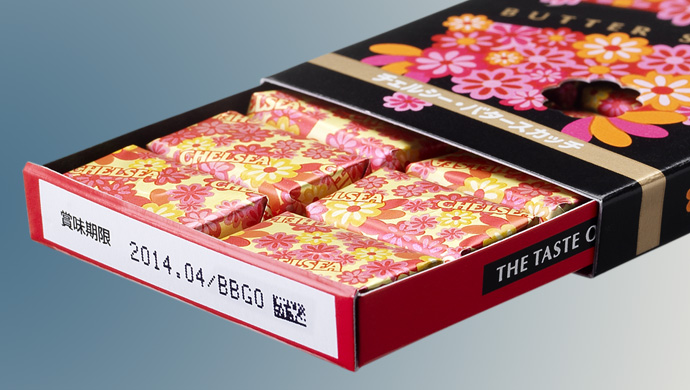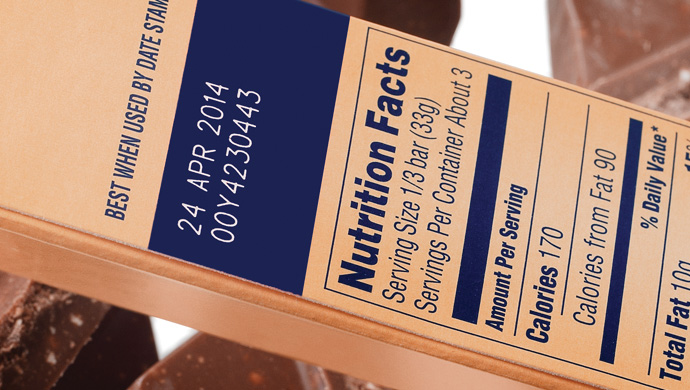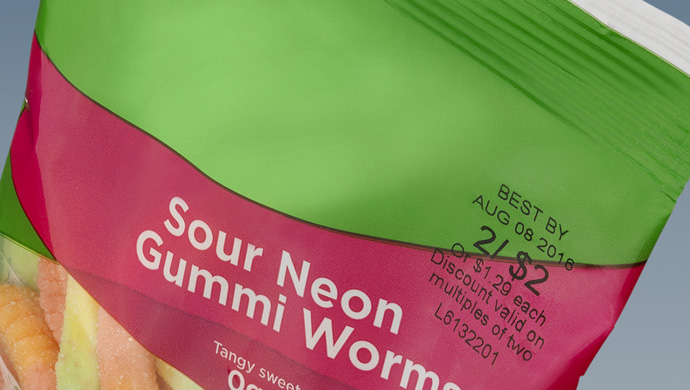 Applications

Line Integration

Documents
Overview

Flow wrappers

Paperboardboxes

Bags

Pouches

Specialtypackages

Cases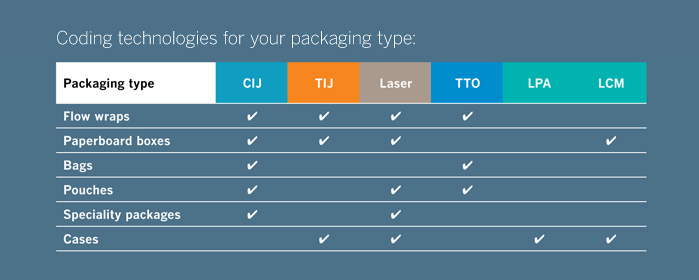 Fluid based, non-contact printing of up to five lines of text, linear and 2D bar codes, or graphics, printed on a variety of packaging types including stationary packaging via traversing systems.

Thermal Transfer Overprinting (TTO)
A digitally controlled printhead precisely melts ink from a ribbon directly onto flexible films to provide high resolution, real-time prints.




Ink-based, non-contact printing using heat and surface tension to move ink onto a package surface. Generally used to print 2D DataMatrix and other bar codes.

A beam of infrared light focused and steered with a series of carefully controlled small mirrors to create marks where the heat of the beam interacts with the packaging surface.

Ink-based, non-contact printing of multiple data types (alphanumeric, logos and bar codes) in large sizes primarily used for secondary packaging such as cases.
Keep pace with flow wrapping technology
Packaging equipment innovation is increasing flow-wrapping speeds. Take advantage of this high throughput/enhanced profitability capability with Videojet. We're matching our innovation with coding options that ensure your entire message appears clearly, in the right product space, and keeps your line at peak performance.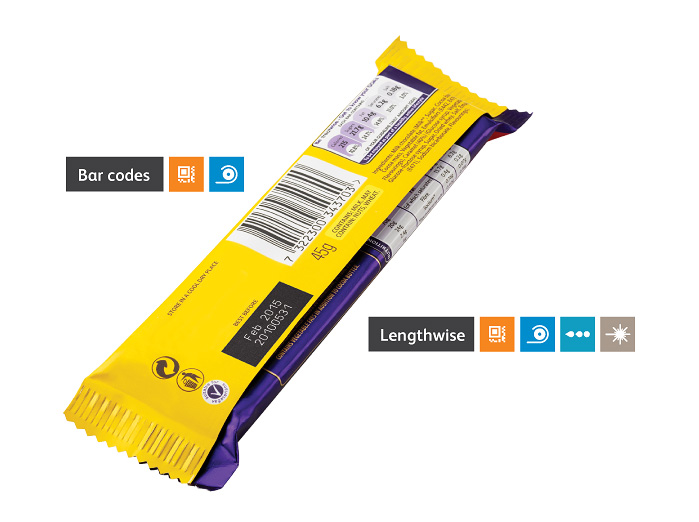 Thermal Ink Jet (TIJ)
Ideal for high resolution text, bar codes and graphics on glossy film and foils
Print more and faster with a 12.7mm tall array and linear speed of up to 100 meters per minute
Thermal Transfer Overprinting (TTO)
Produces high resolution codes on flexible film without solvents
Ideal for printing dates, logos, bar codes, nutrition facts, other product information and graphics
Continuous Ink Jet (CIJ)
Meets the needs of high speed flow wrapping applications, coding either before or after the product has been packaged
Smart Cartridge™ fluid system virtually eliminates waste, mess and mistakes
Laser Marking Systems
No inks or fluids required, thereby eliminating the potential of ink affecting product integrity
Ideal for pre-printed polypropylene films, large marking fields help optimize power settings and avoid burn through
Coding to represent high quality
Carton coding technology selection is based on unique business needs. You need to consider code appearance and durability, printer maintenance and even consumables. Integration is another critical consideration, especially with cartoners. Direct integration of coding with the cartoner, rather than on the 'out-feed conveyor', creates super consistent codes through more precise material handling and, by using existing guards, reduced costs.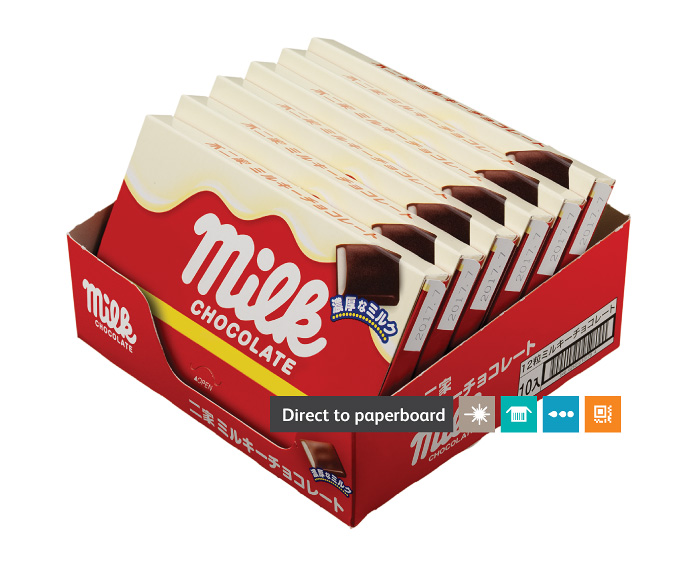 Laser Marking Systems
Ideal for crisp, clear and permanent coding with limited consumables
Comprehensive portfolio of laser accessories including lenses and beam turning units to simplify line integration and maximize laser performance
Large Character Marking (LCM)
Good solution to code on shelf-ready package. Reduce inventory by printing on demand
Consistent code quality by using automatic micropurge and pressure regulation systems
Continuous Ink Jet (CIJ)
Specialty inks that can create contrast and are ideal for use on virtually all carton materials, including aqueous overcoats and other varnishes
Smart Cartridge™ fluid delivery system means virtually no mess, no waste, and no mistake fluids replenishment
Thermal Ink Jet (TIJ)
Ideal for high resolution text, bar codes and graphics on glossy film and foils
Print more and faster with a 12.7mm tall array and linear speed of up to 100 meters per minute
Get more from your printer
Managing multiple pre-printed films for multiple products running on the same lines can be cumbersome and costly. TTO gives you the capability to print product information during packaging, enabling you to limit pre-printed film variations. TTO can print high resolution logos, bar codes and product information, giving you the ultimate in flexibility and efficiency.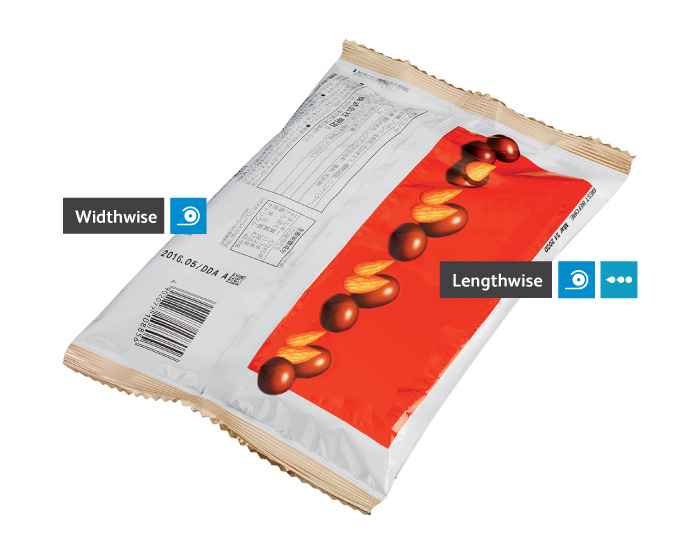 Thermal Transfer Overprinting (TTO)
Produces high resolution codes (300 dots per inch/12 dots per mm) on flexible film with no solvents
Patented clutchless ribbon drive minimizes maintenance-related downtime and maximizes ribbon efficiency
Continuous Ink Jet (CIJ)
Ideal for frequent changeovers with easy-to-use interactive touchscreen. Able to edit codes at the printer for quick changes
CleanFlow™ printhead reduces frequency of printhead cleanings, helping to maximize uptime
Solutions for a wide variety of pouches
Make sure your coding doesn't detract from your great package styling by considering coding during the design process, then choose the optimal coding technology for your specialized package.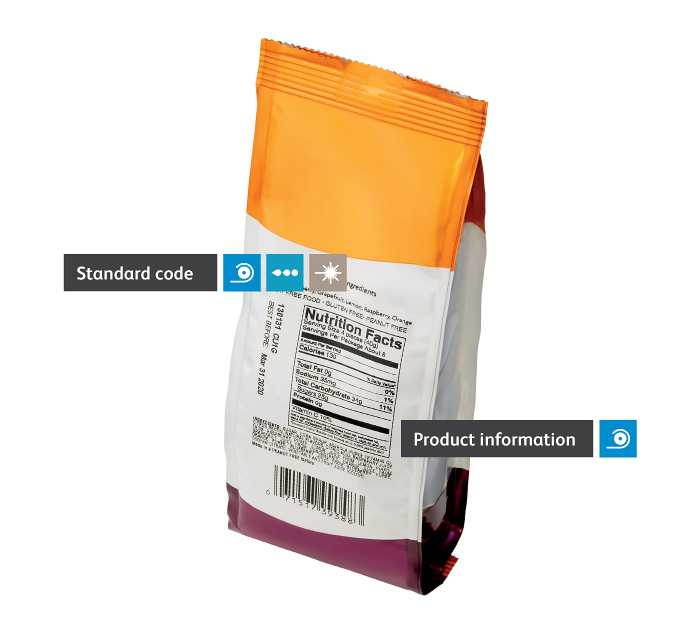 Thermal Transfer Overprinting (TTO)
Added value coding enables you to use generic film and print the product name, best by, and nutritional facts on demand
Integrates directly into the line and prints on the film prior to packaging the product
Continuous Ink Jet (CIJ)
Particularly useful for more complicated applications such as preformed pouches and bags with very thick resealable zippers
Code changes are simple through a user-friendly message creation interface or connection to networking software
Laser Marking Systems
Creates clear codes. Ideal for pre-printed polypropylene films or a reverse printed DataLase® (a contrast enhancer) patch between two layers of a multi-laminated film
Videojet fume extraction systems help keep the production environment and marking lens clean
Code on almost anything
Due to their shape, use, and dispensing method, many candy and confectionery packages, specially the ones targeted to kids, come in a variety of specialized containers. In fact, your package design often differentiates your products and can be integral to your success.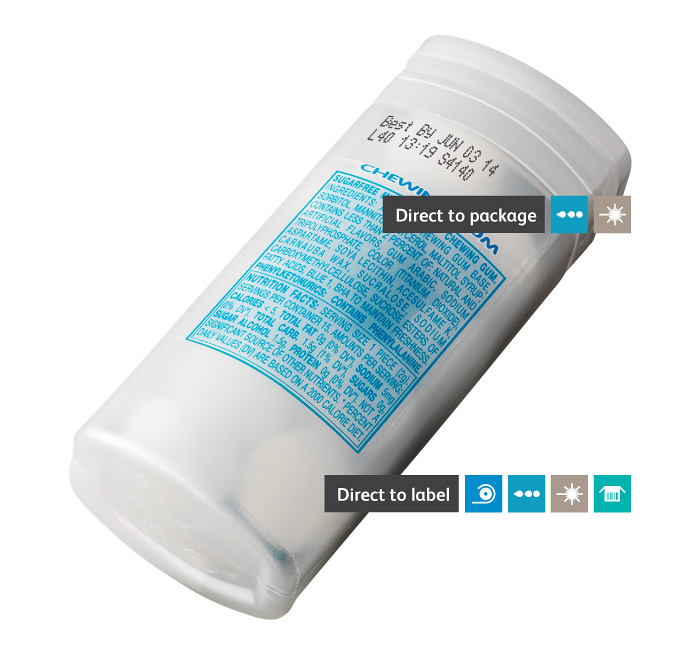 Thermal Transfer Overprinting (TTO)
Prints on label and shrink wrap prior to application
Ideal for dark packaging when a contrasting code is required
Many different ribbon colors available
Continuous Ink Jet (CIJ)
Versatile coding solutions for almost any package material, size or color
Broadest portfolio in the industry at over 175 ink offerings including odorless and non-MEK inks
Easy integration onto your line for printing on the shoulder, top or bottom of a wide variety of substrates
Laser Marking Systems
Mobile 3020 Laser Marking System is easily adjusted for varying package sizes
Scribing technology and large marking fields provide excellent code quality
Fiber Laser Marking System is able to code on metal surfaces
Empower your supply chain and reduce costs
Printing lot, batch and supplier-specific information on your cases creates a traceability point that is visible to your warehouse, wholesaler and retailer. This information provides vital product information, allows for rapid identification and helps to move your product quickly through your supply chain. In addition, printing this information directly on the case helps reduce pre-printed case related costs by using generic cases and printing different trading partner's information on demand.
Laser Marking Systems
A DataLase® (a contrast enhancer) coated case marked with a laser will produce a dark black and extremely high resolution print
Especially useful for water-resistant coated boxes, as it enables clear, dark printing without damage to the protective coating
Large Character Marking (LCM)
Eliminates the cost, storage and management of labels and need for customer-specific pre-printed cases
Solution with patented micropurge process purges ink in programmable intervals to help keep the printhead free of debris for best print quality
Label Printer Applicator (LPA)
Automatic application of high quality printed labels, designed for ease of use and low maintenance
Direct Apply labeling increases performance with on-demand label application up to 150 packs per minute (typical 4"x6" label)
Thermal Ink Jet (TIJ)
High resolution, ink-based printing with no wear parts, minimizing maintenance and related downtime
Videojet's ideal for non-porous substrates, MEK-based inks help ensure good code recovery even after line interruptions
Vertical form fill seal (VFFS)

Flow wrapper

Cartoner

Case packer and sealer
Brochures

Application Notes

Case Studies

White Papers
Contact Us
Additional Resources